Mod with Gale, NANI and new skins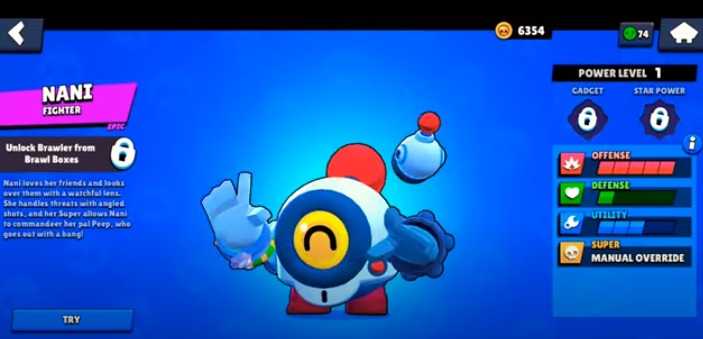 First level
Health: 2400
Movement Speed: Normal
Attack: Trigometric – Nani shoots three light spheres, the trajectories of which gradually converge.
Damage: 3 × 700
Range: Large
Reload Speed: Low
Super: Manual control – Nani takes control of Pip to send him to the target and explode in a collision!
Damage: 2000
Range: Small
Also on this mod, you can try any new skin. To do this, simply select a fighter and the skin will already be open on it.
What is on Brawl Stars 27.266 MOD with NANI:
Skins Unlocked:
Summer pam
Merchant Gail
Builder jackie
Defender rico
Evil genie
Insidious Mortis
Unlocked a new fighter: NANI
• replaced all new skins
• Unlocked Nani
⚠ Nani cannot be knocked out, it can only be played in the training cave !!!
❔How to download:
Follow the link to download the mod, delete the original apk, download a new one (the account must be connected to SuperCell ID)
Rarity: Epic
Type: Warrior
Description: Nani loves her friends and always takes care of them. She shoots in several directions at once and controls her own robot Pip with the help of Super!
Skins mod!
• New skins
• New Brawler – Nani, which can be tested
Download Mod with Nani
Download Mod with Gale
Download Mod with Gale