Clash Royale July Update Patch Notes!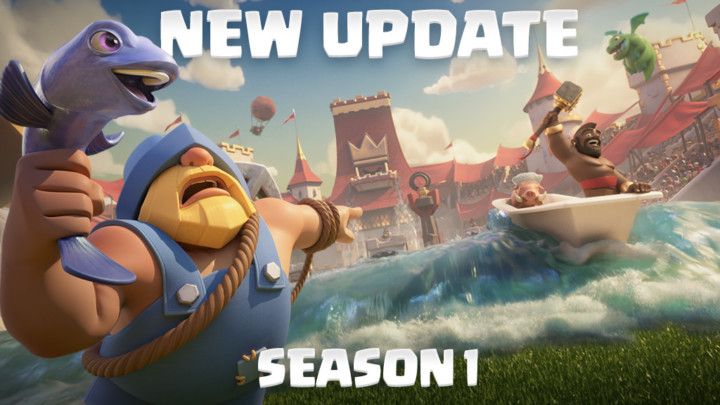 INTRODUCING SEASON 1: THE FLOOD
A mighty tide has swept through the Royale world, bringing with it a new Arena, new card, and new features – the biggest of which is Pass Royale!
PASS ROYALE
Pass Royale unlocks rewards & instant perks that include a unique Tower Skin & Emote, automatic chest unlocking, unlimited Special Challenge entries, and much more!
Earn Crowns to unlock Pass Royale reward tiers and Crown Chests!
SEASON 1 PASS ROYALE REWARDS & PERKS
Season 1 Tower Skin
Tower Skins have arrived to Clash Royale
Unlock the unique Shark Tank Tower Skin for your King Tower (and Princess Towers) with Pass Royale!
You can find Tower Skins in your Emote Deck tab.
Season 1 Emote
Fisherman's freshwater friend has a mean left fin.
(The Season 1 Tower Skin & exclusive Emote can only be earned in Season 1 – this is your only chance to get them! If you unlock them, you get to keep them forever.)
Many More Rewards
Pass Royale is packed with extra rewards, including chests, cards, gold, and more!
PASS ROYALE PERKS (UNLOCK INSTANTLY)
Automatic Chest Unlocking
Queue up your next chest to start unlocking automatically!
Unlimited Special Challenge Retries
Lost a Special Challenge? Enter & retry Special Challenges until you get the rewards – without spending Gems!
Golden Name Cosmetic
Your player name gets a cosmetic change, unique to Pass Royale.
Lightning Strikes
All Pass Royale chests get Lightning Strikes – Strikes give you more chances to get the cards that you want!
CROWN CHEST CHANGES
With the introduction of Pass Royale, we have changed how Crown Chests work.
Crown Chests are now earned in the FREE tiers of Pass Royale. Each tier contains a Crown Chest. Every 24 hours, 1 tier will unlock. Except on weekends, when 2 tiers unlock every 24 hours! (1 tier = 1 Crown Chest)
With Pass Royale, you unlock tiers just by earning Crowns – there is no timer!
Crown Chests now stack more than once. If you don't manage to complete your current one you no longer miss out! For example, if you only play Clash Royale on the weekend, you will still have the 5 Crown Chests from Monday – Friday waiting for you to unlock!
Crown Chests still require 10 Crowns to open, so no change there!
Playing Without Pass Royale
FREE tier rewards!
Crown Chests (they stack – no more missing out if you don't play for a few days!)
A FREE LEGENDARY in the final Season tier (if you are Arena 7 or higher)
Players with Pass Royale earn both Pass Royale & FREE rewards
THE FLOOD HAS ARRIVED…
Fight Through The Flood
The Flood has taken over – the home screen of Clash Royale has been updated!
New Arena
Battle aboard an all-new Arena… Fisherman's Float!
New Card – Fisherman
Bringing a new grappling mechanic to Clash Royale, Fisherman pulls enemies towards him (damaging them in the process) and then slaps them with his trusted fish, causing melee damage and adding a slow effect. He can also pull himself to the nearest enemy building or Tower!
New Game Modes
Take To The Skies
A flooded arena proves to be a great battleground. Only air troops are allowed in this game mode!
Fisherman's Catch
This Fisherman doesn't take sides. Until you capture him! The newest troop sits in the middle of the Arena, and will join the side of whoever destroys his shield first.
BALANCE CHANGES
We are making some big balance changes this update! Below are all the juicy numbers…
Cannon Cart – REWORK!
Damage: -17%
Range: +10% (5 -> 5.5)
Hit Speed: +17% (1.2sec -> 1.0sec)
Hitpoints/Shield: +1.5%
Cannon
Damage: +32%
Hit Speed: -25% (0.8sec -> 1sec)
Giant Snowball
Radius: Reduced 3.0 -> 2.5
Inferno Tower
Lifetime: -25% (40s -> 30s)
Goblin Cage
Lifetime: +33% (15s -> 20s)
Goblin Brawler: Damage +25%
'RULEBOOK' UPDATE: MELEE RANGES
Since we launched Clash Royale in 2016, cards with a Range under 2 have been classified as 'Melee', but many cards had dramatically different ranges that were not clearly communicated.
With this update, melee cards have been classified as Melee: Long / Medium / Short. This will help clear up seemingly 'random' interactions where one troop attacks first but it's not obvious why.
For reference – a tile refers to the squares you see on the Arena that affect unit placement, range, and more!
Melee: Long (1.6 tiles)
Mega Minion
Range: 2 -> 1.6
Minions
Range: 2 -> 1.6
Night Witch
Range: 1.65 -> 1.6
Prince
Range: 1.85 -> 1.6
Melee: Medium (1.2 tiles)
Dark Prince
Range: 1.25 -> 1.2 (Area Damage Radius 1.25 -> 1.2)
Goblin Giant
Range: 1.25 -> 1.2
Elite Barbarians
Range: 1 -> 1.2
Knight
Range: 1 -> 1.2
Mega Knight
Range: 1 -> 1.2
Miner
Range: 1.3 -> 1.2
Mini P.E.K.K.A
Range: 1.05 -> 1.2
Valkyrie
Range: 1 -> 1.2 (Splash Radius 2 -> 2.4)
Melee: Short (0.8 tiles)
Rascal Boy
Range: 1 -> 0.8
All other troops with a range of 0.8 tiles or less will retain their current range. All of these troops will be classified as being Melee: Short.
Other Improvements & Bug Fixes
Trophy Road
Trophy Road now supports random draft card rewards (choose a random pick over a pre-selected card choice)
Goblin Cage is now unlockable at 3750 Trophies
Fixes
Fix for players experiencing a Season reset when the League Season was still active
Fixed an issue where Trophy count after a loss could drop by an unexpected amount
UI fixes for challenge menus
UI support for additional screen ratios
UI fixes for Trophy Road
Fix for being unable to use your free name change if you had a negative Gem total
UI fixes in 2v2
Fix for boost timers showing inconsistent time remaining values
Fixes for low memory devices crashing when running out of memory
Draft
Draft tables have been updated to guarantee a Building-targeting troop for each player
Cards have been rearranged in choices to eliminate direct counter situations (like P.E.K.K.A vs. Giant drafts)
Some cards have been removed from all draft selections due to polarizing match ups
Quests
We've seen your feedback! Quests have been updated.
We now have a wider variety of Quests of varying difficulty
Higher difficulty Quests have higher rewards
Removed quests like 'Win a 1v1 Battle 900 times with Heal and Wall Breakers'
Quests are now no longer limited to specific game types – they can be completed in any game mode (except Training Camp, Private Tournaments and Friendly Battles)!
Cards
Barbarian Barrel now correctly hits its intended radius (this matches the visual animation – radius has decreased so that it no longer hits units that it doesn't touch)